Here's Donna...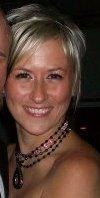 Allow me to introduce myself...I'm Donna. I've been doing hair for 25 years and in 2001, I opened Salon Gossip in my hometown of Bloomfield, NJ.

I believe that continuing education as often as I can is the only way to survive in this business. My education includes taking classes and completing training with:

RUSK cutting, styling and theory
KMS product knowledge classes
The Altieri Brothers cutting, product knowledge and theory
ALFAPARF MILANO cutting, coloring, and theory
AG Hair Cosmetics cutting, styling, advocate and specialist training
Scruples, "Training for Tomorrow"
I've always had a love for the business of making hair a work of art. I specialize in coloring hair from the natural palette to the avant garde.

I've been lucky enough to earn the trust of my clients over the years to commonly hear the phrase, "Do whatever it is you like, Donna." Nothing is more satisfying than knowing your clients put their trust in you. This comes as a result of paying attention and fulfilling my client's wants and needs. My motto has always been, "Tell me what it is you want as well as what you don't want...it leaves out the guess work."